Testimonials
Please find below a selection of Testimonials from Ireland Golf customers.

As with my first two trips to Ireland and Scotland that you organized, everything went very smoothly and I can't imagine a better overall experience.

Our 8 man golfing party did a trip through Northern Ireland and down to Dublin, playing 8 courses along the way.  It was my 3rd trip with Ireland Golf and once again the whole experience was fantastic.  The organisation, accommodations and chauffeur service (with Canice) was great and everything went along without a hitch.  The quality of courses was second to none, and we even experienced some amazing weather.  All in all, the trip was a huge success and loads of fun.  We will most certainly be back to Ireland in the years ahead.

Ireland Golf and its principal Pierce organized a superb 10-day golf trip for my wife and myself in our first venture to Ireland.  We were booked into 5 iconic golf courses from Dublin in the East to County Kerry in the South West (The K Club, Waterville, Tralee, Ballybunion and The Island).  The accommodations were all well selected from the luxury of The K Club to the renovated Barrow Lodge Guesthouse just outside Tralee to the inner city luxury of Brooks Hotel in Dublin.  We had days off to explore the country side, take in the magnificent scenery and learn about Irish historical roots, dating back to pre-historic times and more current events.  All bookings were conveniently pre-arranged and we were expected and welcomed at each stop.  Pierce personally met us a few times in Tralee.  We highly recommend Ireland Golf to organize your travels in Ireland.

Pierce, I speak for everyone in our group that our Ireland golf vacation exceeded our expectations in every way.  The courses were spectacular, the accommodations were excellent and our Chauffeur Tommy Buckley made a great trip even better.  Tommy was knowledgeable of the history, the sites and made reservations for us that catered to our needs.  We all know someone to pass your information on to and we would surely use your services again.

The entire trip was as promised and even the weather cooperated.  Old Head was again an experience and I'm glad we played it twice.  Finishing off at The Island Golf Club was perfect.  Thanks again and I hope to get back soon.

We wanted to thank you for a wonderfully organised tour.  The courses were great as too were the hotels.  We had a lot of fun despite some inclement weather at times.  Really enjoyed Ballybunion and of course the weather that day was perfect.

The trip went very smoothly – all the hotels were excellent and the golf courses were all expecting us.  The weather was so perfect – not a drop of rain, very little wind and warm.  All the guys really enjoyed the trip especially those that had never played links golf before.  Thanks for organizing everything so perfectly.

My wife and I had the great fortune to be invited to a wedding in Donegal in May.  Ireland Golf Travel and Pierce were recommended by a Tour Operator from Scotland who we had used on many occasions in the past.  With the wedding date fixed, we had to build a golf itinerary around fairy rigid dates.  In the end, Pierce assembled a fabulous trip to the northwest that included Royal Portrush and Portstewart – both of which were fantastic.  This was followed by a 3 hour drive to Ballyliffin, the most northerly course on the island and the host of the 2018 Irish Open.  This was a truly memorable experience that my wife and I thoroughly enjoyed.  The accommodations arranged by Ireland Golf were first rate.  Everything about the trip was exceptional and we would whole heartedly recommend Ireland Golf Travel to any group wanting a first class trip to the Emerald Isle.

It was the trip of a lifetime – great golf, great lodging, great experiences between rounds, and, as unexpected icing on the cake, bright sunshine for three of our four rounds with a few clouds and a few sprinkles at Lahinch.  The driving was an adventure!!  I can't imagine playing courses with better views than Waterville and Old Head, and the other were right up there.  Courses here at home will not seem as special as they once did.  Thank you so much for everything.  It was a wonderful introduction to all you have on offer over there.

Pierce, as always you put together an amazing golf trip for Kevin and the guys this year.  Thank you again for ALL of the hard work dedicated to them and to me.  Not a misstep or an issue and the guys had another successful trip.  They particularly liked the Hotel accommodation, right in the heart of Killarney.  You nail every trip and this year was no exception.  The guys (and me!!) are so appreciative of all the additions, changes and last minute details we throw at you that you somehow seamlessly make happen.  Enjoy the summer and we will pick this up again later in the year to start planning the next trip.
Request A Call Back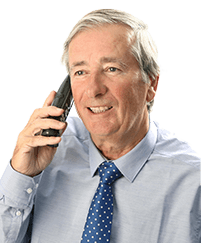 Talk to Pierce
Golf Specialist