Testimonials
Please find below a selection of Testimonials from Ireland Golf customers.

We had an amazing time.  The trip overall was so relaxing and enjoyable.  It was certainly a pleasure to have met you.  I would love for you to share that the trip you put together created a stress free, unforgettable experience for my father and I.  Everyone we met from the accommodations to the golf courses to the pubs and shops were friendly and helpful.  I cannot thank you enough for giving my father and I the gift of such a memorable experience.

The trip was outstanding.  JP Brick, our driver and now our new best friend made it possible to make this Ireland adventure exciting and special.  I am to blame for the timing of this trip as I teach at a University and this was our Spring Break.  Weather was an issue but we were fortunate to overcome it with plenty of Guinness.  Enniscrone is now my favourite links course in all of Ireland.  It is truly a links course but the layout is exceptional followed by County Sligo.  Portstewart was my third favourite and Royal County Down always gets the better of me, making it my fourth favourite.  Your logistics and laying out of the trip were exceptional.

It's Monday morning the 10th June today and our OUTSTANDING Ireland golf trip is now sadly over.  We all agreed that the courses you laid out and the overall trip planning you did for us made for one of our best trips ever.  Each course was unique and challenging in its own fashion.  All times and locations worked well.  People everywhere were exceptionally friendly and helpful.  Ireland, beyond the golf, was a delight.  We are already talking about future trips.

Pierce, everyone is home safe and sound.  The trip was great. Thank you for all your efforts.  They had a blast.

Thank you for booking a spectacular golf trip for Barbara and me and the Resnicks.  Everything turned out so well that Barbara is thinking that a trip to North West Ireland next Summer might be on the cards.  Again, thank you for all your help.

I am just back from my 5th Ireland trip. Pierce put together a fabulous itinerary with 10 different courses over 11 days.  Everything went without a hitch.  Hotels were very nice and ready for us.  Golf courses were expecting us and had Caddies reserved. Transportation was also excellent and we had a fantastic driver.  Pierce had by far the best pricing, was always very quick and thorough to respond to anything I needed.  I would highly recommend his travel agency.

Pierce, everyone was really happy with the trip and the level of service you gave us throughout.  You will be getting 12 recommendations from us.

My Son Tim and I arrived safely home.  We just wanted to thank you again for a fabulous trip.  Everything was perfect.  The six golf courses and the weather were fantastic, and the tee times you selected were most convenient with sufficient time allowed for travel.  The hotels were outstanding.  I would recommend your travel agency to anyone interested in a golf trip to Ireland.  I hope to return again soon with my Wife.
Request A Call Back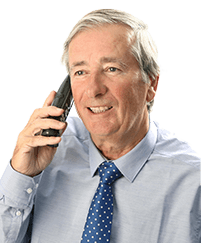 Talk to Pierce
Golf Specialist