Testimonials
Please find below a selection of Testimonials from Ireland Golf customers.

I just wanted you to know how grateful I am for the wonderful golf vacation you put together for us.  I know that it wasn't by accident that a trip such as that, with so many moving parts was executed flawlessly.  The people that we dealt with were helpful and friendly and I hope to visit Ireland again soon.  I will absolutely recommend experiencing Irish golf and your company especially every chance I get.

Just wanted to pass along thanks from all the guys. We had a great time and the trip could not have been better. We will be looking to book another one very soon. Thanks for everything.

We all made it back home safe and sound. I wanted to drop you a note thanking you for a wonderful job setting everything up. The trip could not have gone any better. The accommodations were great and our coach and Chauffeur Robbie were perfect. Robbie was excellent in picking some "non-golfing" spots for us to enjoy. Our itinerary was a bit daunting to say the least but he performed valiantly getting us from place to place. Thank you also for getting us all on Tralee. We all loved it.

We returned safely from Ireland yesterday and wanted to share with you some final reflections on our wonderful trip. Despite our travel issues getting to Ireland on Day 1, this was one of our truly great and memorable trips. Once we got there, everything went smoothly. The accommodations were all excellent, the golf and caddies were superb and Gerry our Chauffeur was a very significant part of the journey. We couldn't have asked for a better guide for our journey. He was a great companion and helped us better understand the beauty of Ireland and the Irish people and customs. Even the weather cooperated (with the exception of our day at Lahinch). All in all, it really was a "trip of a lifetime" for golf enthusiasts. We appreciate all your help in planning the agenda and making all the details work out so smoothly. We really didn't have to worry about a thing, except showing up on time each day.

I wanted to thank you for your efforts. Our trip was wonderful. The golf courses and accommodations were great, as was your suggestion for our dinner on the first night. We enjoyed all of the golf, even Dooks in 50 mile an hour winds and sleet!! Robert our Chauffeur was also great.
Our Scotland portion of the trip was just superb. Courses great and of course The Rufflets Hotel was outstanding. All in all a great trip that all will remember for a long time.

We had a great time and we thought the golf courses were amazing. Somehow we managed to dodge the bad weather and had just 5 minutes of rain over the 4 rounds!! I really appreciate your help in making the trip happen and I have no doubt we will be in touch in the future.

Thanks again to your efforts in putting this trip together. It was nice to meet you at Ballybunion – always a pleasure playing that course though it was not my best round of the trip. Overall, everyone had a great time. Brendan our Chauffeur did a great job. The hotel in Killarney was fantastic. I would recommend it (Killarney Lodge) to anyone; very convenient, clean, good food and nice rooms. Waterville and Ballybunion are great courses. Killarney Golf & Fishing Club is very scenic. My favourite was Lahinch and the course was in great shape.

Thank you both for all the help in making our Father/Son golf trip a wonderful lifetime experience for everyone. Every golf course and hotel was great and Tom our Chauffeur made great suggestions for dinner and sightseeing. I'm sure you both put in a good word for the excellent weather also.

We had an amazing trip and truly appreciate all your work on our behalf to make this the incredible vacation that it was. Everything was great and Colm our Chauffeur played a big part in making our trip so special. He was not only a great driver, but he also had great insight on the golf courses and other attractions (and generally about Ireland). We will certainly share our experience with anyone who will listen.

We have returned from our trip to Ireland and it was wonderful.  All the courses and accommodations you arranged were excellent.  Our accommodation in Dublin was perfectly located to explore the City and everyone found our accommodation in Killarney the favourite – the place was beautiful and the hosts grand.  The golf was great with Waterville been the favourite – it was breath-taking even in strong winds!!
Request A Call Back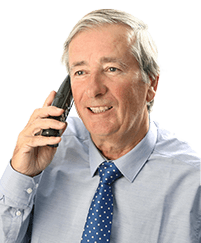 Talk to Pierce
Golf Specialist