Testimonials
Please find below a selection of Testimonials from Ireland Golf customers.

Pierce, our trip was a great success, thank you very much.
I would like to take a moment to express our deepest gratitude for your efforts in coordinating our golf trip.  For many in the group, it was our first trip to Ireland and we could not have asked for a better trip.  It was truly first class from the minute our plane landed in Dublin.  The service that our driver Dave provided was beyond expectation.  He was courteous, prompt, friendly, accommodating and a true gentleman.  We could not have been more pleased with his service.

Our hotel was very accommodating and centrally located.  The restaurants in the hotel were wonderful.  The golf we experienced was beyond belief.  Each course was unique and presented a different challenge each day.  There was not one course we regretted playing.  The picturesque views, the world-class links courses, the very helpful caddies and the Irish weather made for an unforgettable week of golf.

As we drove to the Airport to catch our flight home, we spent some time reflecting on our week.  We recounted a few funny stories, a few memorable golf shots and a few delicious meals.  Each one of us agreed that the week we spent in Ireland was a trip we would remember for the rest of our lives.  So on behalf of the Williams Group, thank you for making our golf trip truly memorable.

Pierce, great job and thank you for everything.  Fantastic trip and completely seamless.  Your choice of weather conditions was questionable however but we forgive you!!

We had a most enjoyable experience visit Ireland recently.  A beautiful country with magnificent scenery, welcoming people and spectacular golf courses.  Thanks for your assistance in organizing our accommodations and golf.  All lodging was very comfortable and convenient.  Killarney Lodge was a special treat.  Very quaint and comfortable with the most personable staff.  Your logistical planning of our lodging, golf courses with convenient tee times really made for a comfortable and stress free experience.  We would recommend anyone visiting Ireland (especially first timers) to utilize your professional services for a memorable and enjoyable vacation.

Our trip was absolutely amazing.  Such a memorable time with my family.  We love Ireland.  So beautiful and we really lucked out with perfect weather.  Thank you for helping put it together.  JP Brick just made our trip.  What an incredible man!!  We do appreciate the extra effort he made to make sure everyone was happy and comfortable.  He also helped to arrange plans for my younger daughter and I while the others played golf.  I can't imagine doing the trip without him.  We enjoyed our route and the hotels we stayed in.  They were top notch, comfortable, with great locations.  We wished we could have stayed longer everywhere we went.  Thank you for putting together such a beautiful memorable trip for my family.  We are all ready to go back as soon as we can.

We had a great time.  John Furlong is a real pro and was very helpful and informative.  We did more sight-seeing than ever.  The highlight of the trip was The Merrion Hotel.  We have travelled to many places around the world and stayed in hotels billed as 5 Star in Europe, Asia and the US.  None of those provided the attention to detail like The Merrion Hotel and their staff.  The rooms were spotless, house-keeping visits twice a day and the breakfast was excellent.  The desk clerks, the concierge, bell and wait staff were all superb.  Portmarnock was in excellent condition and our trip to The Open at Royal Portrush was a very good experience.

Thank you for organizing a great trip.  Everything was great, even the weather.  The brief squall at Tralee was perfect to give everyone a taste for what weather can be like, without having to play in it.  We will do another trip for sure and would use your company again.

Pierce, everyone returned safely home following what was a TOTALLY AWESOME trip.  Everyone raved about the entire itinerary and the golf courses were phenomenal.  Thank you for making the trip a complete success.  Also, Ciaran our Chauffeur was a perfect fit for our group and did an absolutely fantastic job.  It was great to finally meet you at Tralee Golf Club and I hope we have the opportunity to tee it up the next time I'm in Ireland.

Please accept our sincere appreciation for a trip well planned.  Car, hotels, meals and golf were all outstanding.  Tickets to The Open Championship were icing on the cake.  The hospitality of the Irish was on full display.  Your expert planning made our trip easy, entertaining and memorable.  Can't wait for the next trip.

I second David's opinion.  The trip you planned for us was spectacular.  We played some beautiful course.  The trip to The Open was very smooth.  We had a great time playing golf and watching The Open.

Once again, Pierce did an outstanding job setting the itinerary and accommodations of a wonderful Ireland golf trip.  We used Pierce 14 years ago with my brother and father and trusted again in 2019 with my 18 year old son and another father/son combination of similar ages.  This was the best golf trip in the world.
Request A Call Back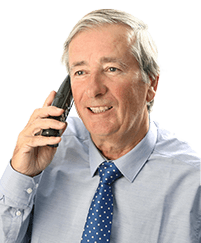 Talk to Pierce
Golf Specialist